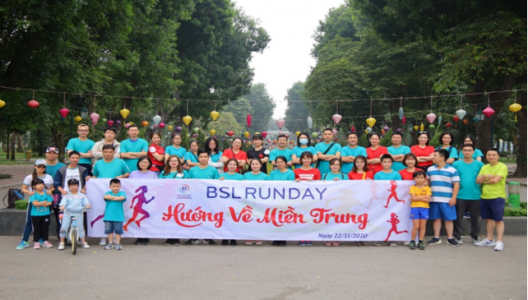 "BSL RUN DAY" A MEANNINGFUL RUNNING PROGRAM
On the Sunday morning of November 22th, 2020, with the support of Board of Executive, Trade Union, Youth Union of BIDV - SuMi TRUST Leasing Company (BSL) together organized the "BSL RUN DAY".
The collective activities encourage the spirit of sport as well as show the spirit of mutual love, and the social responsibilities of BSL staffs and their families' member together, in purpose to contribute for sharing the difficulties and the losses of Central Region in the flood season.
Within 03 hours of running program, total 65 athletes of BSL achieved the total distance of 410 km, consequently donating 31,000,000 vnd from the Company's Funding to the Central Community Support Fund.
For the Men's Marathon, Mr. Xa Dinh Truong was the champion with an outstanding achievement, 13km. Mr. Le Tri Thong (10.74 km) and Mr. Pham Huu Tuyen (10.03 km) secured the first and second runner-up position respectively.
The champion female runner was Mrs. Doan Thi Thuy Nga with distance of 12.74 km, followed by Mrs. Tran Thu Hang, 7 km and Mrs. Le Thi Thuy, 6.93 km become the first and second runner-up.
The activity of "BSL Team" will donate to the overall results of the running program "Warm Tet for the poor - For the beloved Central Region Community", which was hold by Joint Stock Commercial Bank for Investment and Development of Viet Nam (BIDV). Within a month of participating the running program, there are 66 athletes of BSL made a total of 2,766km, contributing VND 10.7 mil to the Tet fund for the poor.
Truong Dinh Hai