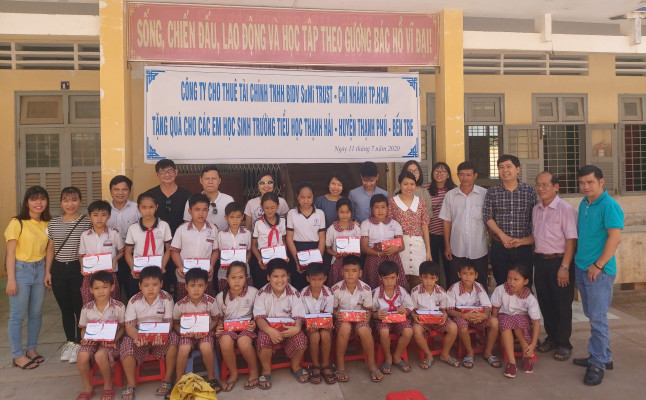 BSL HCM Branch gave gifts to pupils of Thanh Hai primary school (Thanh Hanh commune - Thanh Hanh district - Ben Tre province)
Through the long and bumpy roads, the bus ran with hearts full of loving enthusiasm in a summer day ...
The red poinciana flowers and the cicada crying everywhere let us know that the summer is coming - a summer later than every year, another school year is gradually ending. On July 11, 2020, the Union of BIDV - SuMi TRUST Leasing Co., Ltd - Ho Chi Minh City Branch visited and presented gifts to pupils of Thanh Hai Primary School in Thanh Hai Commune, Thanh Phu District, Ben Tre province.
This is an activity to help children in a region that was once the base of the communist party during the war, with significant historical significance associated with the name of Battalion 307. Used to be heroes in the war, After the war, Thanh Phu people returned to the farm work with many hardships, especially in the coastal areas. With difficult living conditions, children's education in this place faces many difficulties. The fact that students have to work with their parents after school hours or may even have to leave the school is always a big concern.
Although the destination is only about 170km from Ho Chi Minh City but it is a remoted area and it took about 4 hours to get there. Thanh Hai Primary School has just been invested in repairing facilities from the commune budget but has not been furnished with tables and chairs and equipment to ensure conditions for teaching and studying. Representatives of the school, Thanh Hai People's Committee and the pupils attended the event. BSL delegation sent 1,500 notebooks to the school; giving 20 gift sets (each set includes the amount of VND 200,000 and 10 notebooks) to the pupils with extremely difficult circumstances (belonging to the poor household group) but have made efforts to go to school. The total value of the gifts is more than VND 15 million.
Although the CSR activity of BSL did not give great value gifts, it had greatly encouraged and encouraged the pupil in disadvantaged areas. BSL's gesture of sharing with the community has left a good impression on the pupils of Thanh Hai Primary School, partly helping them better prepare for the upcoming new school year. BSL is gradually building values sand spreading to the community.
Returning from the journey, everyone felt joyful with their small contribution and understood that there are still a lot of pupils who need help, and many CSR activities like this need to be organized, to contribute to the development of the pupils - the future of the whole nation!
Images of the journey: