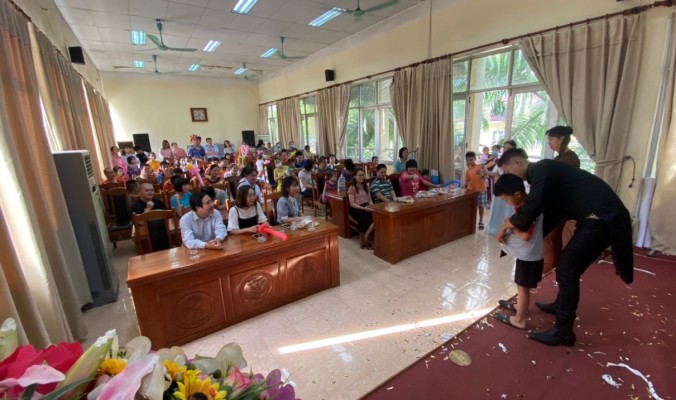 BSL and Mid – autumn event at Hoa Binh village
On September 25, 2020, Trade Union, Youth Union of BIDV-SuMi TRUST LEASING CO., LTD (BSL) and BSL staffs had organized a warm and friendly Mid-Autumn Festival program for children with disabilities in Hoa Binh Village, Thanh Xuan District, Hanoi City in the Mid-Autumn Festival 2020.
After nearly 20 years of operation, Hoa Binh Village is currently nurturing, treating and caring for  110 children with disabilities.Most of them are children with multiple deformities who are descendants of war veterans, war invalids infected by Agent Orange / dioxin in the wars for national independence.
Speaking at the event, Dr. Tran Trong Thang, Deputy Director of Hoa Binh Village shared the difficulties of  Village over the years, along with the spirit of overcoming difficulties and efforts of doctors and staffs to bring a house full of love for children with disabilities and children with sequelae of Agent Orange / Dioxin. Dr. Thang also thanked BSL for the caring and valuable support for improving the material and spiritual life of the children in Village.
The games and magic shows that BSL brought have welcomed by all children in the village. In addition, more than 150 gifts and stuffs given by BSL have brought the children  a warm and meaningful Mid-Autumn Festival, contributing to improving their living conditions. The success of the event is thank to the participation and both material and spiritual contribution from BSL staffs in all three regions of the country, showing BSL's dedication and concern about social responsibility and  other potential humanitarian activities in the near future.
By Nguyen Xuan Hoa